Lord Baron of Cairbre-Gabhra
Grant in Capite for Military Service of the region of Cairbre-Gabhra including the castles, forts, messuages, forts, churches, fisheries, and hereditaments of four granges in Granarde, of the grange of Tonaghmore, of the grange of Rincolle, Cowldony, Clontrall, and Deraghe including the site, precinct, castles, hereditments, fisheries and possessions of the Monastary of Grenarde.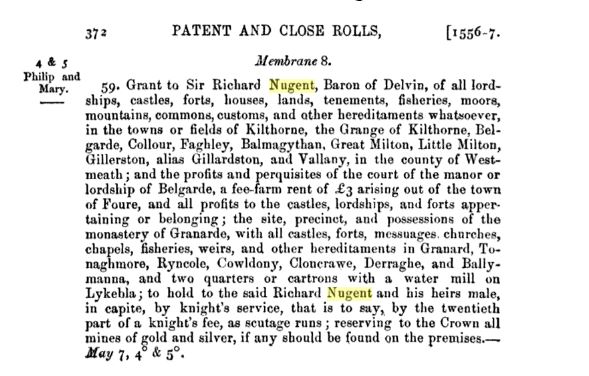 11 IV. and V. Year 1557 Philip and Mary. This monastery (Abbeylara) www.megalithicireland.com/Abbeylara,%20Longford.html situated in Le Annaly and the COUNTY LONGFORD. 9 lands of Tonaghmore, Raicola or Rincolle,* Cowldony, Cloncrawe, Derraghe and Bellamane alias Bally managhe in Le Annaly, with two cartrons of land in Lickebla, parcel of the possessions of the said monastery, were granted for ever in capite to Richard Nugent, royalties excepted."
4 Granges of Granard - four granges in Granarde, of the grange of Tonaghmore, of the grange of Rincolle, Cowldony, Clontrall, and Deraghe; the rectories of Dromloman, Ballmakier, Ballekillen, and Strade (Street), possessions of the late monastery of Larro, alias Granarde, near the town of Granarde, in the Annale O'Farrell's country. Citation
VIII. 17.-—" Grant from the King to Richard, Lord Baron of Delvin. —Longford County. The lands of Smere, 215a. of pasture, 147a. bog and wood, and 282a. of mountain; Cornedronee, 92a. pasture, and 206a. bog and wood; Rosseduife, Drumshanaly, and Faghowry, 1,000a. pasture, and 332a. bog and wood; Doonbeggan, 69a. pasture, and 66a. bog and wood; Cleynragh, 137a. pasture, and 100a. bog and wood; Birrenagh and Crott, 265a. pasture, 75a. wood and bog, and 197a. mountain; Aghagagh and Dromowry, 1 cartron and quarter, 230a. pasture; Aghekine and Lisgarry, 228a. pasture, and 106a. bog and wood ; Agherclogh, 7 8a. pasture, and 55a. bog and wood, with a common and a mountain belonging to the above lands, 212a. pasture and 638a. mountain; Ballyranell and Coolegawen, 50a.; Ballyneraghan, 111a.; Portegurtenwoghtragh, 50a. ; Portegurtenyeightragh, 50a.; Cartronvore, 27a. pasture, and 84a. bog and wood; also the lands of Creeve, adjoining the lands of Ballyneraghan; total, 2,970a. pasture, 2,288a. bog, wood, and mountain; rent, pasture lands, £ 30 7s. 8§d., Engl.; bog and wood, £4 15s. 4d. To hold in capite, by military service, with a provision that the said Richard, Lord Baron of Delvin, is not to assume the name, style, or title of ' the Great O'Farrall,' in giving or paying any rent, taxation, or service, or divide the lands before mentioned according to the Irish custom of gavelkind, otherwise this patent to be wholly void.—All the lands granted under the commission for the plantation of Longford and Ely O'Carroll's territory, are subject to the covenants set out in Art. N 0. 11. 17th."

Cairpre Gabra – northern County Longford, barony of Granard. Ó Ronáin (O'Ronan) were lords in the barony of Granard until dispossessed by the Ó Fearghails in the 13th century. https://en.wikipedia.org/wiki/Kingdom_of_Breifne

The Conmhaicne or Conmaicne were an ancient tribal grouping that were divided into a number of distinct branches that were found scattered around Ireland in the early medieval period. They settled in Connacht, where they gave their name to several territories.
Their name came from a mythical ancestor known as Conmac. Conmac was in turn said to be descended from Fergus mac Roich and Queen Maeve of Connacht. The word Conmacne means "progeny of Conmac" (ne, a progeny). Conmac itself means "hound-son" (con, hound; mac, son). https://en.wikipedia.org/wiki/Conmhaícne
Conmaicne Maigh Rein, or Conmaicne Rein na bFomorach, County Longford and south County Leitrim