Kingdom of Breifne
The Kingdom and Princes of Breifne or Bréifne ([ˈbrʲeːfnʲe]; anglicized Breffny) was a medieval kingdome Ireland. Breifne included what is part of Ancient Annaly, County Longford County Leitrim, County Cavan and parts of neighbouring counties, and corresponds roughly to the Roman Catholic Diocese of Kilmore. Breifne emerged by the 10th century, as a confederation of túatha headed by an overking drawn from the Uí Briúin Bréifne.
By the 11th century, Bréifne was controlled by the Ua Ruairc (O'Rourke) dynasty. The Breifne kingdom reached the height of its power in 1200s under Tigernán Ua Ruairc. During the latter part of his reign, Bréifne took part in campaigns against the Norman invasion of Ireland. His assassination by the Anglo-Normans in 1172 was followed by a succession dispute, and a conflict between the Ua Ruairc and Ua Raghallaigh (O'Reilly) dynasties.
Two Breifne Kingdoms - Following the Battle of Magh Slecht in 1256, Bréifne split into West Breifne (ruled by the Ua Ruairc) and East Breifne (ruled by the Ua Raghallaigh).
In about 800 AD, The lesser King of Longford, O'Rourke and family, made claim on the throne of Breifne. A feud and war continued for two hundred years between O'Reilly and O'Rourke with various success on both sides. Eventually the High Irish King at the council of the Kings divided Breifne in two: East and West.
O'Reilly continued to rule the Kingdom of Breifne East, with the greater population and access to the sea port of Drogheda while O'Rourke was granted the Kingdom of West Breifne, land bound portion of the western area of County Meath, now known as Westmeath. O'Rourke submitted to the crown and the crown granted many of these lands in the 1500s to then Nugents and Lords of Delvin and Earls of Westmeath. Bréifne was part of the province of Connacht until the reign of Queen Elizabeth I.
The last King of West Breifne was Brian O'Rourke. Sir Brian O'Rourke (Irish : Brian na Múrtha Ó Ruairc ) (c. 1540 – 1591) was King and lord of West Breifne in Ireland from 1566 until his execution in 1591. He reigned during the later stages of the Tudor conquest of Ireland and his rule was marked by English encroachments on his lands. Despite being knighted by the English in 1567, he would later be proclaimed a rebel and forced to flee his kingdom in 1590. He travelled to Scotland in early 1591 seeking assistance from King James VI , however he was to become the first man extradited within Britain on allegations of crimes committed in Ireland and was sentenced to death in London in November 1591.
Before and after King O'Rourke of West Breifne was executed, the the Lords of Meath and Crown of England granted lands in Westmeath and Longford to Baron Delvin. These lands of Longford constitute the part of the West Breifne granted to Delvin before and after Longford was separated from Westmeath.
Breifne's Districts in Annaly and Longford
Magh Breacraighe

[or Breacruighe]: a district near the borders of Co. Longford and Leitrim. Also described in NW county Westmeath.

Muinter Geradhain

: on the west side of Lough Gowna in Co. Longford, possibly extending into south Leitrim.

Clann Feargius

: likely the patrimony of the O'Farrells, of Conmaicne descent (Clann Fergus), including much of north and central co. Longford.
Tribes of Breifne's Longford Region.
Tellach Congaláin

of Muintir Anghaile [co. Longford].

Tellach Connucan

of Muintir Gillgáin [co.Longford].

Tellach Tanaide

of the Cenél Luachain on the west of Lough Gowna, co. Longford.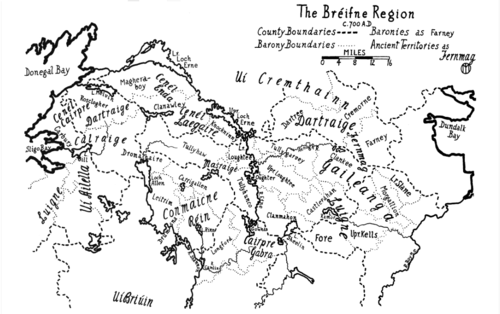 Citations
Placenames of

Breifne

,

O'Rourke

Family History and Folklore. ...

Longford

. A summary of some of the chief septs and territories in or near

Breifne

: O Ruairc ...
Map of Breifne Kingdom including Annaly Below
Princes of Breifne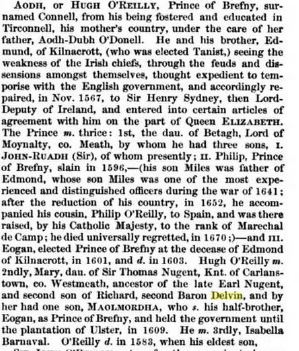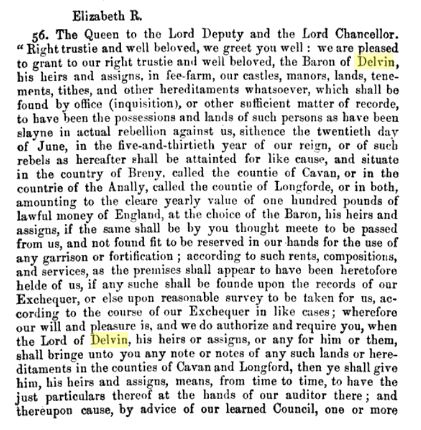 Notice Country of Breny and Country of Anally above.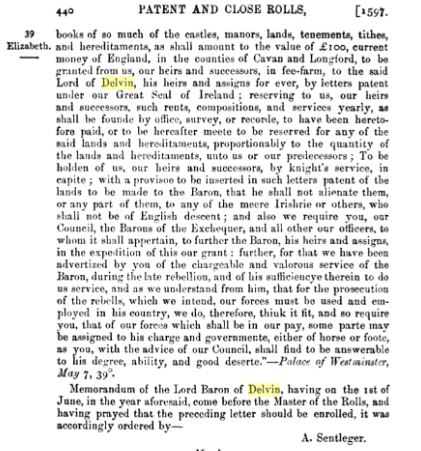 The ousted Brian Óg again sought to strike a deal with the English allowing him to keep his lands but this was flatly refused. Finally, in September 1603, King James I granted Sir Tadhg O'Rourke "
the country or lordship of Breny Ui Ruairc and
Muinter Eoluis
". On 28 January 1604 Brian Óg died of fever in exile in
Galway
and was buried in the
Friary of Ross Errilly
.
[54]